Though not necessarily the most prolifically deadly animal on earth, insects certainly hold their fair share of the unfortunate demises. Throughout history, the insect has played a major roll in many different actions and reactions ranging from writings in the Bible to golden statues in Egyptian Tombs.
1. Anopheles Mosquito
Anopheles  is a genus of mosquito. There are approximately 460 recognised species: while over 100 can transmit human malaria, only 30-40 commonly transmit parasites of the genus Plasmodium, which cause malaria in humans in endemic areas. Anopheles gambiae is one of the best known, because of its predominant role in the transmission of the most dangerous malaria parasite species – Plasmodium falciparum.
2. Fleas
Flea is the common name for insects of the order Siphonaptera which are wingless insects with mouthparts adapted for piercing skin and sucking blood. Fleas are external parasites, living by hematophagy off the blood of mammals and birds. In the past, it was most commonly supposed that fleas had evolved from the flies, based on similarities of the larvae. Genetic and morphological evidence indicates that they are descendants of the Scorpionfly family Boreidae, which are also flightless; accordingly it is possible that they will eventually be reclassified as a suborder within the Mecoptera. In any case, all these groups seem to represent a clade of closely related insect lineages, for which the names Mecopteroidea and Antliophora have been proposed.
3. Bees
Bees are flying insects closely related to wasps and ants, and are known for their role in pollination and for producing honey and beeswax. Bees are a monophyletic lineage within the superfamily Apoidea, presently classified by the unranked taxon name Anthophila. There are nearly 20,000 known species of bees in seven to nine recognized families, though many are undescribed and the actual number is probably higher. They are found on every continent except Antarctica, in every habitat on the planet that contains insect-pollinated flowering plants.
4. TseTse Fly
Tsetse, sometimes spelled tzetze and also known as tik-tik flies, are large biting flies that inhabit much of mid-continental Africa between the Sahara and the Kalahari deserts. They live by feeding on the blood of vertebrate animals and are the primary biological vectors of trypanosomes, which cause human sleeping sickness and animal trypanosomosis, AKA nagana. Tsetse include all the species in the genus Glossina, which are generally placed in their own family, Glossinidae.
5. Fire Ants
Fire ants are a variety of stinging ants with over 280 species worldwide. They have several common names including ginger ants and tropical fire ants, hormigas bravas or hormigas coloradas, fourmis de feu, Feuerameisen , mod-kun-fai , aka-hi-ari or aka-kami-ari , and Langgam .
6. Locusts
Locust is the swarming phase of short-horned grasshoppers of the family Acrididae. These are species that can breed rapidly under suitable conditions and subsequently become gregarious and migratory. They form bands as nymphs and swarms as adults—both of which can travel great distances, rapidly stripping fields and greatly damaging crops. The origin and apparent extinction of certain species of locust—some of which reached 6 inches (15 cm) in length—are unclear.
7. Wasps
The term wasp is typically defined as any insect of the order Hymenoptera and suborder Apocrita that is neither a bee nor ant[1]. Almost every pest insect species has at least one wasp species that preys upon it or parasitizes it, making wasps critically important in natural control of their numbers, or natural biocontrol. Parasitic wasps are increasingly used in agricultural pest control as they prey mostly on pest insects and have little impact on crops.
8. Siafu (African Ants)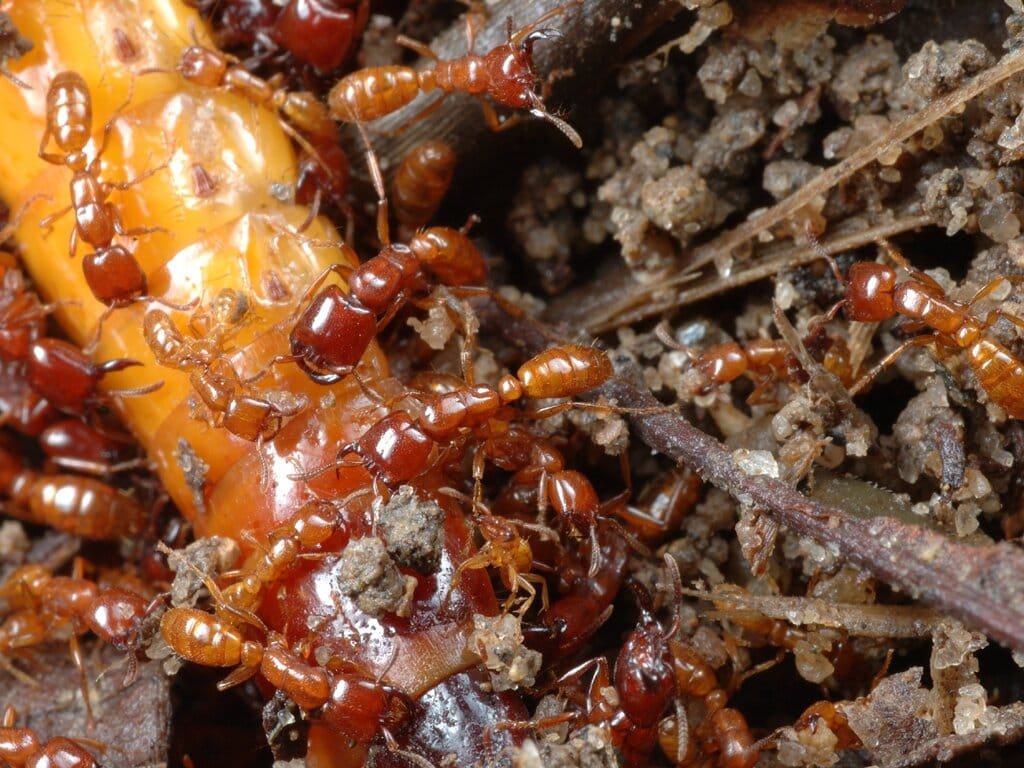 Twenty million ants strong, one single colony can ravage the African countryside obliterating everything in their path. When food shortages present themselves, the colony as a whole will march through whatever happens to be in its path in order to acquire sustenance. Though not difficult to avoid, the very young or elderly can find themselves victims of asphyxiation and 20-50 die each year as well as thousands of dollars in foodstuffs damage yearly.
9. Giant Japanese or Asian Hornet
This massive hornet can achieve lengths of 3 inches full grown and has been known, in numbers of only 20 or 30, to decimate an entire hive of honeybees. The sting can be lethal not just by allergic reactions but also due to its many toxins. Here are four interesting things about its sting:
a: Its sting has a higher concentration of the pain-causing chemical called Acetylcholine than any other stinging insect.
b: An enzyme in its venom can dissolve human tissue.
c: Containing at least eight distinctly different chemicals, the venom itself produces one such that actually attracts others of its kind to the victim.
d: Like all other hornets, it can sting repeatedly.
10. Hemiptera – kissing bugs
The hemiptera classification is wide and varied including all of the so-called 'true bugs'. Most have distinctive 'sucking' mouthparts that resemble tubes. Most, in fact, feed on plant sap in one form or another, but a few, such as the kissing bug, feed on blood of larger animals. The bug can transmit Chagas Disease, and it is described in Wiki as follows: "The symptoms of Chagas' disease vary over the course of the infection. In the early, acute stage symptoms are mild and are usually no more than local swelling at the site of infection. As the disease progresses, over as much as twenty years, the serious chronic symptoms appear, such as heart disease and malformation of the intestines. If untreated, the chronic disease is often fatal. Current drug treatments for this disease are generally unsatisfactory, with the available drugs being highly toxic and often ineffective, particularly in the chronic stage of the disease."