Every person that I know deeply cares about his or her pets. They are their best friends. They tenderly love each other. Sometimes they eat together, sleep together, and go for walks together. I'm more of a cat person, but I can't sit still when I see little puppies or big dogs with big soft fur. I want to hug them, play with them, and give them some of my love and tenderness too. I've also seen many adult dogs of different breeds worth praise and true admiration. They are clever, sociable, and funny when you want to play; calm and patient with kids. And they're something I can't credit to cats: they are faithful.
Dalmatian
The Dalmatian is a breed of dog whose roots are traced to Dalmatia, a region of Croatia. It is noted for its white coat with either black or liver spots. This popular breed of dog is a well-muscled, mid-sized, elegant dog with excellent endurance and stamina. The Dalmatian is slightly longer than tall according to the European  standard. The American Kennel Club standard states that the dog should be more square, as long from forechest to buttocks as it is tall at the withers.
Boxer
Developed in Germany, the Boxer is a breed of stocky, medium-sized, short-haired dog. The coat is smooth and fawn, brindled,white, or even reverse brindled with or without white markings. Boxers are brachycephalic, and have a square muzzle, mandibular prognathism, very strong jaws and a powerful bite ideal for hanging on to large prey. The Boxer was bred from the English Bulldog and the now extinct Bullenbeisser and is part of the Molosser,mastiff group.

Saint Bernard
The St. Bernard Dog is a very large breed of dog, a working dog from the Swiss Alps, originally bred for rescue. The breed has become famous through tales of alpine rescues, as well as for its large size. The St. Bernard is a very large dog with a large head. The largest recorded Saint Bernard was over 6 ft in length and weighed 310 pounds,[citation needed] although the average weight of the breed is between 140 and 264 lb  or more and the approximate height at the withers is 27½ inches to 35½ inches. The coat can be either smooth or rough, with the smooth coat close and flat.
Pit Bull
Pit Bull' is a term commonly used to describe several breeds of dog in the molosser family. Many breed-specific laws use the term "pit bull" to refer to the modern American Pit Bull Terrier, American Staffordshire Terrier, Staffordshire Bull Terrier and English Bull Terrier however, a few jurisdictions also classify the modern American Bulldog as a "pit bull-type dog". All three breeds share similar history, with origins rooted from the bulldog and a variety of terriers. The term can also refer to dogs that were known as "bull terriers" prior to the development of the modern Bull Terrier in the early 20th century.
Rottweiler
The Rottweiler is a breed of domestic dog known for its medium to large size and its strength. They originate from Rottweil, Germany and were known as "Rottweil Butcher's Dogs" because they were used to herd livestock as well as pull carts laden with butchered meat and other products to market. Some records indicate that earlier Rottweilers may have also been used for hunting although the modern Rottweiler has a relatively low hunting instinct. It is a hardy and very intelligent breed. The Rottweiler was employed in these traditional roles until the mid-19th century when railroads replaced droving for getting livestock to market. While still used in herding, Rottweilers are now also used in search and rescue, as guide dogs for the blind, as guard or police dogs, and in other roles.
Husky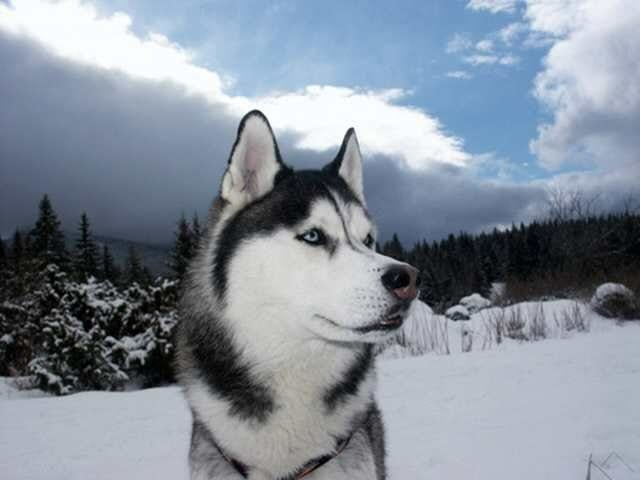 Husky is a general term for several breeds of dogs used as sled dogs. Huskies were originally used as sled dogs in northern regions but are now also kept as pets. The word "husky" is a corruption of the derogative term "Eskie", also given to the Esquimaux tribes that came into contact with Europeans who made early expeditions into their lands. The most common huskies are the Siberian Husky and the Alaskan Husky.
Chow Chow

The Chow is a sturdily built dog that is square in profile with broad skull and small, triangular, erect ears that are rounded at the tip. The breed has a very dense double coat that is either smooth or rough. The fur is particularly thick around the neck, giving the distinctive ruff or mane appearance. The coat may be one of five colors including red, black, blue, cinnamon/fawn, and cream.